ADD:Longhua Town Development Zone, Jing County, Hebei Province
Mob:0086-13292875538
Tel:0086-0311-83953682
E-mail:sales01@hbxhfsy.cn
Brief Introduction

Mud Pump is used to circulate drilling fluid while drilling, it is the heart part of drilling fluid circulation system, and it is composed of Power End and Fluid End.
The products conform to API Spec 7k, and acquired the authorization to use Official API Monogram.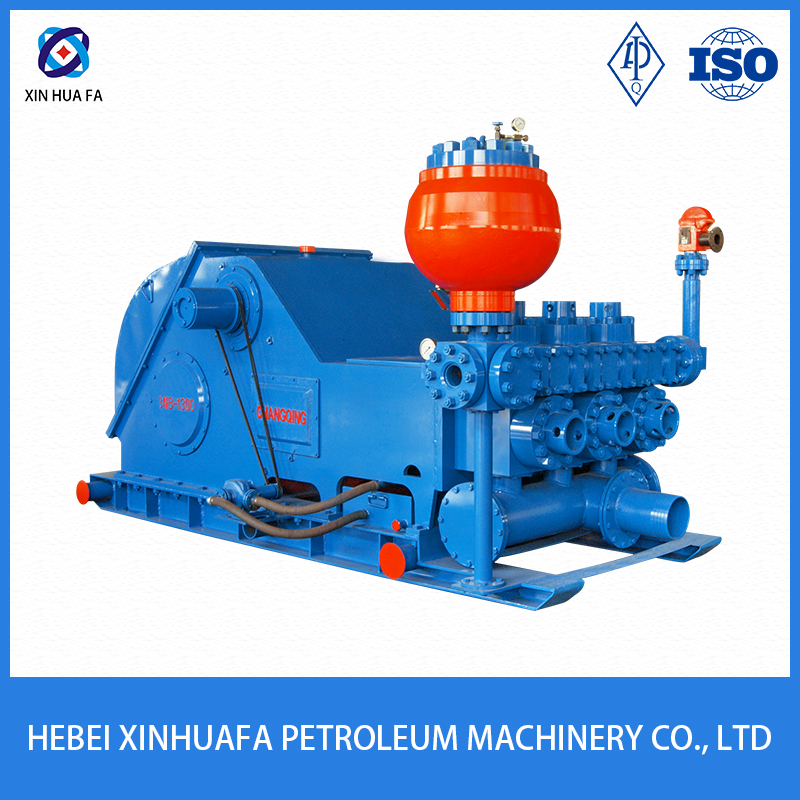 Technical Performances and Structure Features
1.Power End: the frame is welding structure with steel plate, it has high strength, rigidity and light weight, It is stress-relieved after welding.. The transmission gears are integral involute herringbone, with smooth running, high efficiency and long service life. The crankshaft is hollow one-piece casting. At the Power End, we adopt splash and forced lubrication.
2.Fluid End: compact structure is due to adopting straight pass through fluid cylinder. The suction and discharge flange conform to ANSI and API Spec.
3.Piston Rods and Intermediate Rods are jointed by collar couplers that allow quick installation/disassembly.
4.The piston and line bore are cooled and lubricated by independent spray pump system, has long service life.
5.The expendables are universal.
Series F mud pump features
Series F mud pump has long stroke length so that stroke numbers are reduces and fluid end quick-wear parts last longer.
Forced combined with splash lubrication ensure more efficient lubrication.
Series F pump is proper-structured, compact, durable, running smoothly and accommodate special requirements during drilling wells ranging from intermediate to deep depth. Series F mud pump is compact and reliable. Suction valve and discharge valve are interchangeable. Triple cylinders and fluid end main components on each pump are interchangeable.
Series F mud pump durable fluid end greatly improves performance of triplex pump and its unique design enables quick check and convenient repair.